LET'S SEND EVERY CHILD TO SCHOOL.
Why do we speak up for every child's access to quality education?
Because education changes powerfully lives.
Without it, nothing changes. Disadvantage lingers. Poverty continues. A whole new world of opportunity opens up when a child completes their education. When every child receives an education, the whole of society benefits. When you educate a child, you don't just change one life, but the life of their family, their community, and future generations.
One example. For girls, the benefits are incredibly profound. If all women completed secondary education, there would be 49% fewer child deaths, 64% fewer early marriages, and 59% fewer young pregnancies. They would earn up to 45% more than women with no education. [1]
Children and young people in Europe can play a vital role in advocating for every child, everywhere in school. They can call on the European and national governments to invest in education and help build more sustainable and resilient societies, starting with their schools.
Inside this pack is everything you need to become a change-maker. It will make a big difference to many young people around the world in ensuring they can receive a quality education. We hope you enjoy taking part.
HOW will we challenge the injustice of many young people without access to education?
We will learn, think, and act.
Steps towards every child in school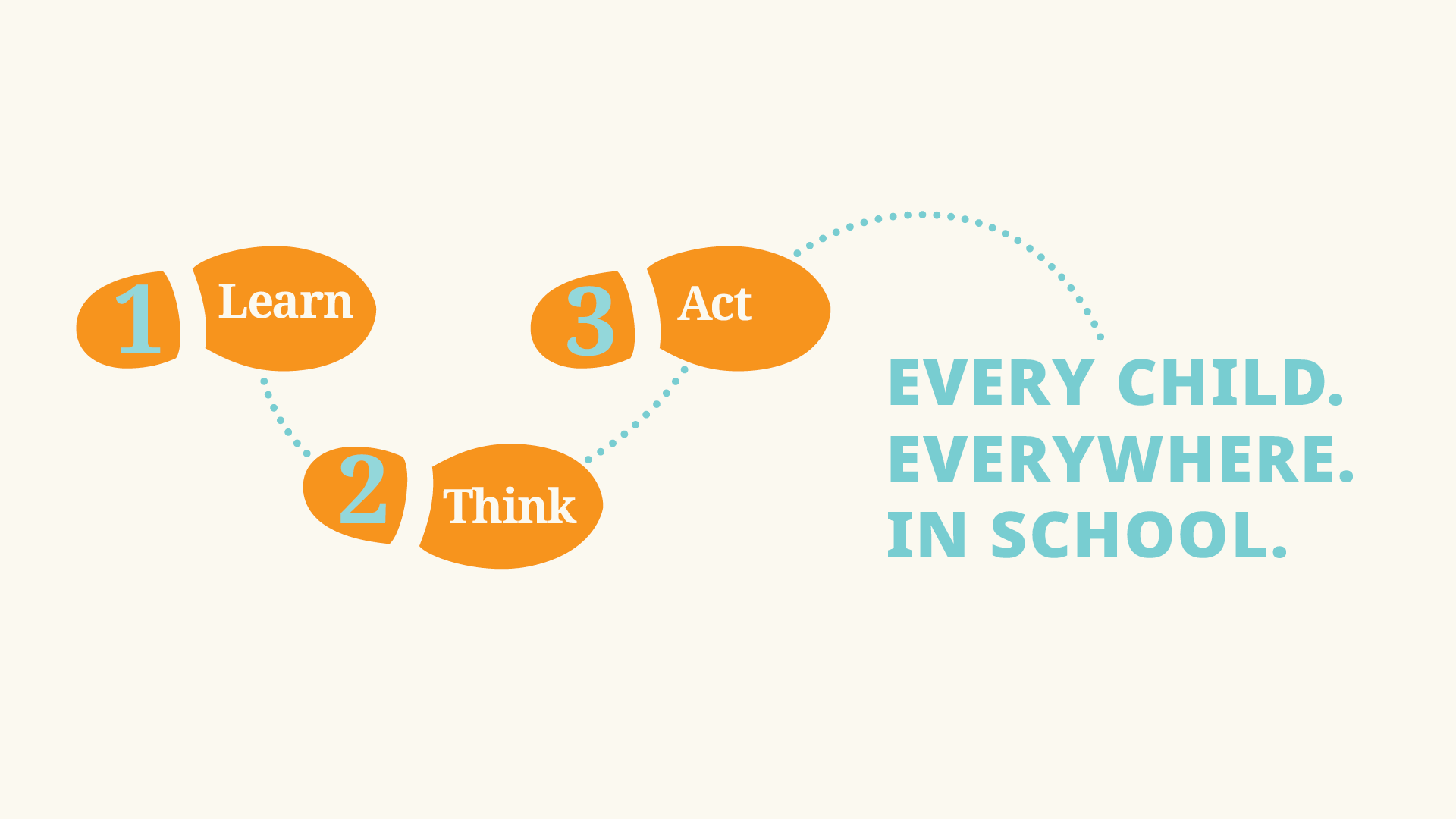 a) Learn about the importance of quality education
     b) Listen to stories of children and teens who struggle with education
     c) Think about solutions
     d) Develop persuasive messages for postcards
     e) Write messages for national and European leaders
     f) Prepare postcards
     g) Optional: Meet with decision-makers
1 – LEARN
Steps:
a) Learn about the importance of quality education                                 
b) Listen to stories of children and teens who struggle with education
A) IMPORTANCE OF QUALITY EDUCATION
Quality education is powerful. It provides the knowledge and skills to thrive in a fast-changing world. Quality education is crucial for children's safety and for reaching their full potential. Every child deserves a good quality education. That's why, in 2023, we need to increase our efforts and ensure every child gets the chances they deserve.
Watch two short movies:
ADRA: Why does education matter?
ADRA education campaign
Education can:
open up paths out of poverty,
reduce the likelihood of conflict,
provide stability to children who are displaced,
contribute to a healthy planet
is vital for long-term sustainable
The international community has committed to ensuring inclusive and quality education for all by 2030. However, 262 million children are currently out of school, and of those in school, many are not learning. The situation is heightened for those groups that face increased and intersecting barriers such as marginalised groups, children with disabilities, girls, and those living in conflict situations.
Education, pandemic, and climate change
Even before the Covid-19 pandemic struck, 258 million children missed school. The poorest and most marginalised children – girls, refugees, children with disabilities, and children affected by conflict – are much less likely to be in school and learning. These children's families are often the most affected by climate breakdown. The main reason why these children can't go to school is simply that the world hasn't invested enough resources in their education. Before the pandemic, this was the case, and the pandemic risks made the funding gap even wider while the climate emergency intensified.
In March 2020, Covid-19 school closures put 1.6 billion children out of school. These closures were necessary at an unprecedented time. But the harm they caused to children's futures in even wealthy countries like the EU countries has been severe. In the world's poorest countries, the damage has been devastating.
Covid-19 is an emergency that took place within an even bigger climate emergency. Young people will need to learn to live with climate change. Across the world, it's the poorest communities that are the hardest hit by climate change. They have done the least to cause the climate emergency but are experiencing its most severe impacts – including their schools and children's educations.
Education is threatened by climate breakdown, and this threat becomes more severe and urgent every year. When floods decimate schools, children have no place to learn, when monsoons riddle their communities with diseases, they are too ill to attend classes, and when drought plunges families into poverty, leaving no money for school costs, children – particularly girls – cannot go to school. Yet countries' climate strategies rarely feature education in a meaningful way, and too many education systems around the world inadequately prepare children and young people for the changing climate. For too long, education and the climate have been treated as separate issues. The Covid-19 pandemic has shown that education systems worldwide are not resilient enough to deal with significant scale disruption. Given the severity of climate breakdown, this must change.
Low investment in education
The world was not achieving education for all before the COVID-19 pandemic struck, and climate breakdown worsened because the world was not investing enough money in education. Better policies will help make a difference. But they must be backed up with investment to repair the damage caused by Covid-19, improve schools' resilience and help children learn for the changing climate.
We want the European and other governments to invest in global education as this will help to create more sustainable and resilient societies in the future.
B) LISTEN AND WATCH THE STORIES OF CHILDREN AND YOUTH, STRUGGLING TO GET ACCESS TO EDUCATION
  Listen and watch the stories of children and youth, their struggle with access to education and the impact a good education has on their lives.
Animated ADRA movie about the importance of education during emergencies can be viewed and downloaded here.
Animated ADRA movie about the importance of education can be found here.
Story from Albania (two movies about the challenges of education for Albanian children after the earthquake and during a pandemic),  movie 1 available here and movie 2 available here.
Story from South Sudan (story of a young girl Nyaluak, aspiring to get an education and become a doctor for her community), movie is available here.
2 – THINK
Steps:
c) Think about solutions
d) Develop persuasive messages for postcards  
C) ENGAGE YOUR BRAINS, DIG THROUGH CHALLENGES, FIND SOLUTIONS!
The challenges facing global education are enormous. They are the responsibility of the entire global community and not one country alone or one person alone. However, we can set an example and lead other countries, organisations, and individuals.
Use the chart below, think about the stories of young people, and reflect on your educational experience. What message do you have for decision-makers – for your national or European parliament member[1]? What changes would you like to see national and European leaders make to help accelerate education around the globe?
[1] Our campaign for education includes activities inside European countries that are members of the European Union and inside countries that are not. Our suggestion is that children and youth from EU countries address the postcards to national members of the European Parliament, while children from non-EU countries address national members of Parliament. For practical reasons, we will use the terms decision-makers and leaders for national and EU parliament members.
What do children and youth need to access a good education?
How do you see the best school ever in the future?
What can you say to "decision-makers" in your country to change the injustice and open the doors of education to every child?
D) DEVELOP MESSAGES FOR POSTCARDS
Make a chart and think about what needs to occur for every child to access quality education.
| | | |
| --- | --- | --- |
| What do children and teenagers need for a good education? | My vision of a dream school of the future? | What will I say to "people-in-power" that the dream school of the future will become a reality for all children? |
3 – ACT
Steps:
e) Write messages for national and European leaders!
f) Prepare postcards!
g) Optional: Meet with European or national decision-makers
E) MESSAGES FOR DECISION-MAKERS!
Below are examples of messages to send to national and European decision-makers. If you don't find the right message, write your own.
EXAMPLE of DIVERSE MESSAGES
I. INCLUSIVE EDUCATION (advocating for equal access to education for boys & girls, children with disabilities, and children on the run/ refugee and migrant children)
Encourage access to education, especially for girls, disabled children, and vulnerable children on the run.
Countries should pay special attention to making sure children with disabilities go to school and are not left out.
Countries should support getting more girls into school – for example, by challenging child marriage, early pregnancy, period poverty, gender-based violence, and bullying.
Children on the run (refugee, returning, migrant, and IDP children and youth) should have access to learning and education. They face additional risks while migrating within the country or across international borders.
Countries should give girls more opportunities to participate in decision-making about their futures because girls are often left out of these decisions.
II. EDUCATION IN EMERGENCY (advocating for learning in the period of climate emergency, natural disasters, and wars)
Children and youth in crisis contexts should not be left further behind.
Education is a right for every child, even during conflict.
Protect schools, teachers, and students from attacks and other crises.
More money should be invested to pay for education in emergencies. Why? Because emergencies – for example, floods, storms, droughts, and extreme heat – are likely to occur more often as the climate changes.
Children everywhere should learn about climate change in school and be taught the skills to overcome climate breakdown.
Money from the climate change budget should be spent on training girls and boys to learn new skills for the green economy.
Schools must be built well enough to withstand the impacts of climate change – for example, storms and floods.
III. FUNDING FOR EDUCATION (advocating for allocated funds for education in EU & national budgets)
Education is a win-win investment because improving access to and quality education is vital for developing children and countries.
Finance Quality Education NOW.
Education is a priority that must be reflected in national policies and budgets.
Secure education budgets.
Prioritize and invest domestic resources (financial, human) in tackling the learning crisis.
IV. COMPULSORY UPPER SECONDARY EDUCATION (advocating for education for youth between 15 – 18 years)
All children in Europe should be included in education until the age of 18 years.
V. GLOBAL EQUITY IN EDUCATION (advocating for all children in the world to have access to quality education)
The "rich" countries should spend more aid budgets to support education in the "poorest" countries.
Support sustainable learning and education programmes as key game-changers for the overall development of humanity as a global community.
Education is a win-win investment because improving access to and quality education is critical for developing children and countries.
Education is not only a matter of building schools; we must invest in distance learning and new pathways to reach the most hard-to-reach children.
Education is a right for every child, even in remote areas.
Adopt multi-sectoral approaches by promoting birth registration, health, nutrition, WASH, participation, and empowerment of girls and boys through education.
F) PREPARE POSTCARDS!
Register on our website, and we will send you a list of all the MEPs in your country for you to fill in and send back to us. You will find the MEPs address here. Click on your country, and all the names and contacts will appear. Please choose one or more politicians you want to write to and mark them on our list. Remember that we want to limit the number of sent postcards to up to ten cards per decision-maker – we want to bring their attention to education, and we surely do not want to overwhelm them. Children, teenagers, and families painted these postcards as part of our Art Contest, organised as an awareness campaign for World Refugee Sabbath.
Prepare and write the message(s) in your language and write it (them) on the postcard(s) you have chosen. We suggest that the printing of the postcards is the responsibility of each country. If you have any questions regarding the printing of the postcards, please send us an e-mail to [email protected]. Here are the links to the postcards: (folded cards 290 x 145 mm, postcards 145 x 145 mm).
Send postcards to European Parliament from April 2022.
G) OPTIONAL: MEET WITH EUROPEAN DECISION-MAKER (MEP)
Whilst COVID-19 restrictions are in place, decision-makers (national parliament members or members of the European Parliament) hold virtual meetings. We would encourage the young people to meet with your decision-makers virtually (or in person when it becomes safe to do so) alongside the teacher/parent/guardian to discuss the campaign. When it does become safe and possible to meet decision-makers face-to-face, we encourage schools to arrange meetings at their school where decision-makers can meet all the students involved.
Please let us know how you get on! How did you find the campaign? Did you hear back from your decision-maker? Can you send us a picture (or two …. or more)?
Contact us: [email protected]
ADRA Slovenia organized a postcard writing workshop with youth on importance of SDG 4: Quality education, more specifically on access to education in emergency settings. During our project Youth for Youth: Education in times of emergencies we were informing youth on importance of access to education as well as seek solutions with the youth to encourage quality education for all. It came at the most crucial time for youth in Slovenia when they were still in the midst of COVID-19 restrictions that in a way shed a light on a global issue in a local setting.
The voices of youth are invaluable and must be heard also by decision makers to reach sustainable changes for future generations. Children and youth in Slovenia believe that investment in quality education is necessary worldwide, if we hope to achieve peaceful, cohesive societies worldwide in the future.
During the workshop youth expressed their messages quite clearly:
girls are equally included in education
education on climate change needs to be strengthened to enable children and youth to better cope with the consequences and become future innovators
climate resilience can be built only, if we understand the cause and consequences of climate change
teacher need better support during emergencies (education, psychological and financial support)
better motivation and support for children is crucial for children who are at risk of drop-out.