Abdul's dream.
12-year-old Abdul from Syria is blind and partially paralysed since birth. Abdul used to stay inside alone during the day. His biggest dream was to play outside with the other children. The family's situation is difficult.
Umm Hamzen is the mother of six children aged 12-27, whereof two of the sons have disabilities. Abdul is one of them. She used to live with her husband and family in a modest house until the war came. The family was then forced to flee to a safer neighbourhood in the same city. During that time, Umm Hamza lost her husband, who was the only breadwinner for the family.
During the pandemic, life has become a struggle for many people, especially the poor and marginalized. Often, families with members with disabilities struggle even more.
In Syria, the humanitarian situation has deteriorated over the past year. The conflict may be largely ablated, but the financial crisis in the neighbouring country of Lebanon and the spread of COVID19 have increased living costs and deepened the poverty of already struggling communities.
Over 90% of the Syrian population are now living under the poverty line, and unemployment rates are estimated to be 50%. Only 16% of the women are in the labour force. 12,4 million people – 59% of Syria's entire population is in need.
If a household has to care for a member with a disability, it is less likely to be able to meet their needs. 9 out of 10 of these households reported having financial problems to access health care and 7 out of 10 families have taken on more debt since mid-2019.
Families are adapting crisis coping strategies, including consuming cheaper, less nutritious food, cutting portion sizes and skipping meals. An alarming number of 2,4 million persons with disabilities are classified as in-need.
ADRA identified Abdul's family in a project and decided to help. They gave Abdul a walking stick and taught him how to use it. Before, Abdul had to stay inside alone every day while the other children were at school and outside playing. His biggest dream was to join the other children.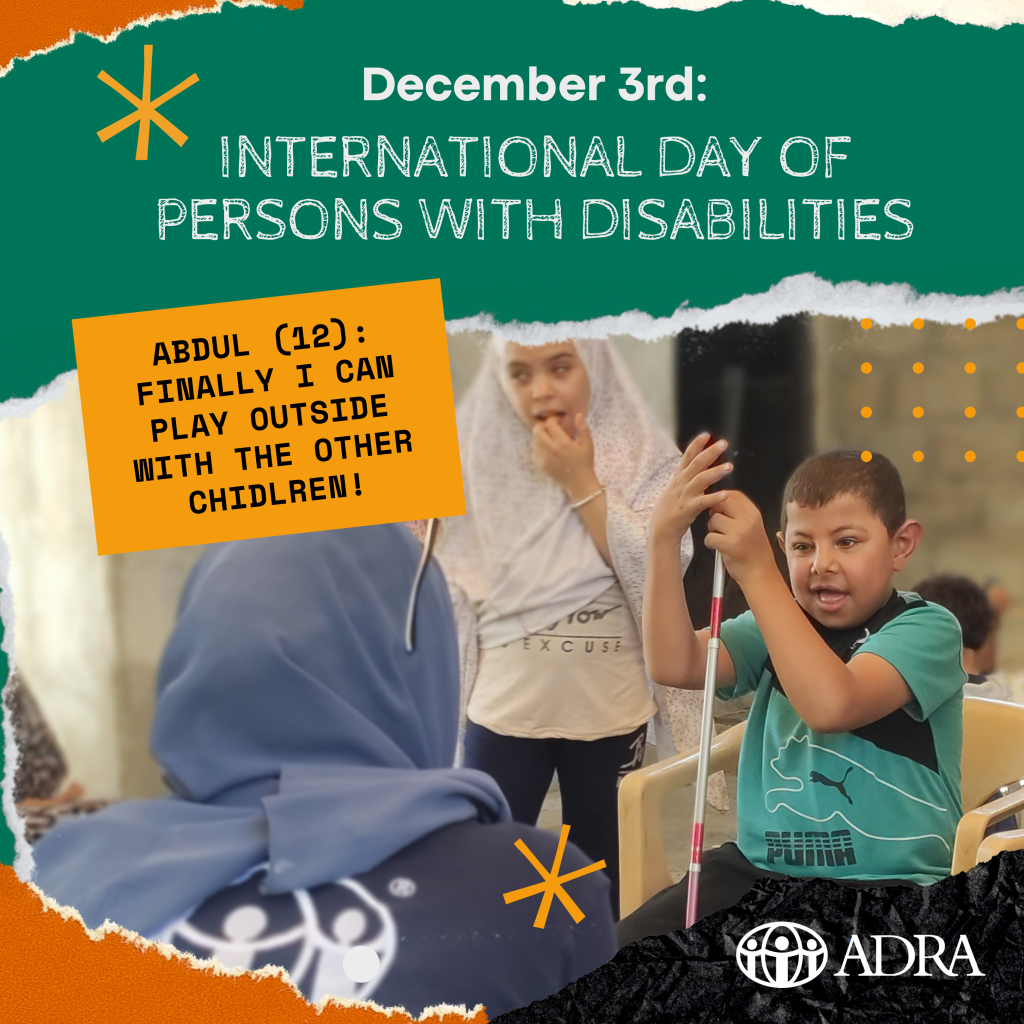 Abdul is a smart child and mastered the walking stick soon after, walking easily inside and outside the house. His dream finally came through: He could be outside with the other children.
While giving an aid may be considered a simple help, it made Abduls dream come through and he is forever grateful that he can now join the other children.
December 3 is International Day for Persons with Disabilities and is a day to spread awareness and focus on the rights and inclusion of people with disabilities.
Did you know?
There is one billion people with disabilities. 8 out of 10 live in developing countries.
An estimated 46% of people aged 60 years and older have a disability.
One in every five women is likely to experience disability in her life, while one in every ten children is a child with a disability.
Persons with disabilities in the world are among the hardest hit by COVID-19.
QUOTE:
I urge all countries to fully implement the Convention on the Rights of Persons with Disabilities, increase accessibility, and dismantle legal, social, economic and other barriers with the active involvement of persons with disabilities and their representative organizations.
António Guterres