Olga Calonge, Director of ADRA Spain, reports about leading ADRAs work and how the team started the assistance to people following the earthquake one month ago.
"ADRA Spain, in close collaboration with ADRA International, is coordinating the emergency humanitarian response deployed in the Atlas Mountains to address the consequences of the 6.8 magnitude earthquake that occurred on September 8th in Morocco.
These have been days of intense work, visits to the devastated areas, and a rapid search for resources and human teams to coordinate a first response. As of today, we have a coordinator from ADRA Spain on the ground, Daniel Abad, and we have launched several projects that we will see grow step by step, which would be impossible to tackle without the cooperation and assistance of all our partners, donors, and followers.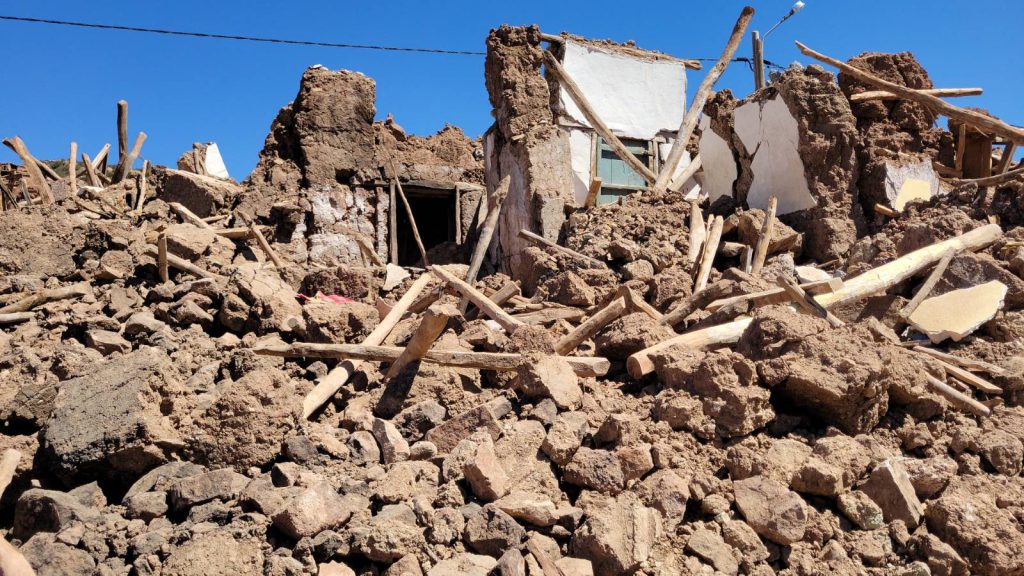 The Morocco earthquake has been the most powerful one recorded in the region in over 60 years, and it has left, at least according to government sources, a total of 2,946 fatalities and over 5,476 injured. The epicenter was located in the city of Ighil, 71.8 kilometers southwest of Marrakech.
The earthquake occurred on the midnight of Friday, September 8th, and ADRA's response was activated immediately. On the morning of Saturday, September 9th, ADRA Spain received the request from our colleagues at ADRA International to lead the urgent response plan. Why Spain? Because, up to this point, ADRA did not have an organized presence in Morocco, and because, in addition to geographical proximity, we have historical ties with Morocco, such as the different projects already developed in the area by ADRA Spain in 2010 and 2011. The neighborhood, proximity, and accumulated experience in the past put us at the forefront of this significant challenge. That same afternoon, we joined ADRA International's Emergency Committee to assess how to make an initial assessment of the situation and the most pressing needs.
As of today, we are still in the first phase of the emergency, which lasts for a month and will extend until the end of this week. ADRA International assisted us with three members of their team who joined ours during the first days. With them, we reached Marrakech, where our operational base is located, on September 12th.
The fact that ADRA does not have an organized presence in Morocco does not mean that we do not have collaborators on the ground. ADRA has has been supported by locally based volunteers who, from the moment of the earthquake, offered their technical knowledge and support and organized the emergency response. Our gratitude to all these collaborators is immense for their knowledge of the terrain, their relationships with the local Moroccan community, and their immediate offer of support.
On September 12th, already in the evening in Marrakech, we organized the first coordination meeting, in which we decided to advance on two strategies. First, we decided to visit villages and assess the severity of the damage and their needs. Second, in parallel, we began to identify and list local organizations that are already working on the ground, which we know from past projects or references provided by our volunteers. All of this was carried out on September 12th, 13th, and 14th. We visited the villages and started having meetings with local organizations to join and financially support their initiatives.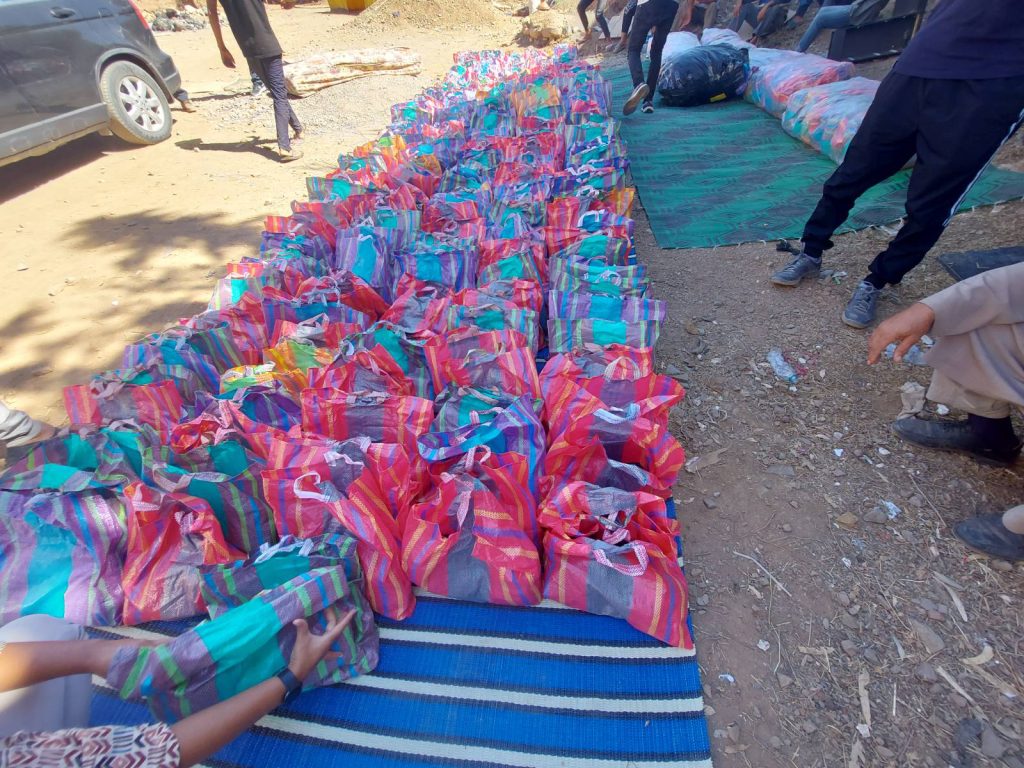 First Humanitarian Aid Delivery
On Saturday, September 16th, we participated in the first humanitarian aid delivery in one of the affected communities. We contributed to the purchase of 200 kits consisting of blankets and warm clothing to help combat the cold in this area of the Atlas Mountains.
In the following days, we distributed 700 emergency aid kits in two other communities, 400 in one community and 300 in another neighboring village. The kits included flashlights, cold-weather socks, personal hygiene soap, sanitary pads for women, and hygiene wipes for use where there is no access to water. We also distributed kits for children with socks and warm clothing. All of this material was purchased from different places in Marrakech because we always encourage, as a humanitarian principle, that purchases be made in the country where the crisis has occurred, unless it is impossible due to supply reasons.
In the subsequent days, we continued with the logistics of distribution, providing nearly 1,200 relief packs to different communities in the area. We also made another significant delivery of school supplies so that 400 children can resume their school routines: backpacks, notebooks, colored pencils, pens, etc.
In the past few days, our collaboration with local organizations has allowed us to support and contribute to the purchase of blankets and mattresses for 500 beneficiaries; the acquisition of 150 goats for local villages that have lost their livestock; the purchase of a tent that shelters 45 affected individuals; and nearly 500 deliveries of non-food items for adults and food deliveries for 435 people, among other actions.
Future Plans
Thanks to the international support of ADRA, we have been able to incorporate Daniel Abad as the project coordinator, and he will be responsible for managing the next steps of our response on the ground. The next challenge, in which we are already immersed with a local organization, is the construction of safe and quality shelters so that the affected people can spend the winter in houses instead of tents. These shelters will have bedrooms, latrines, and showers. We have committed to providing initial assistance for this project and are seeking additional funding to build more houses, as we believe it is a very interesting and quickly implementable project.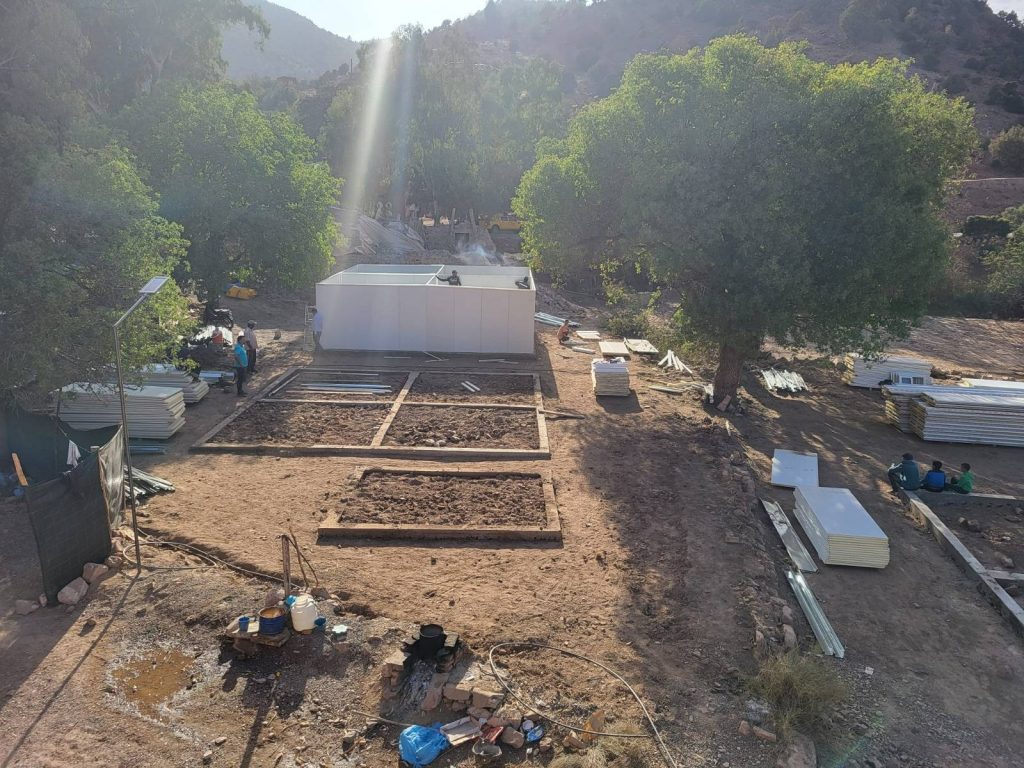 ADRA's initial appeal is for $150,000 to support the humanitarian response we are coordinating from our ADRA Spain office. This funding is made possible through the selfless collaboration of our partners and, especially, the following countries: ADRA Germany, ADRA Japan, ADRA Australia, ADRA France, ADRA Canada, ADRA Netherlands, ADRA Belgium, ADRA Austria, ADRA Europe, ADRA Austria, ADRA Norway, ADRA New Zealand, ADRA Czech Republic, ADRA Portugal, and ADRA Switzerland.
Your support is important. Thank you for donating to ADRA's emergency fund and helping the earthquake-affected people in Morocco and other disasters worldwide."