Serbia's Homeless Fined for Breaking COVID-19 Curfew.
Dusan and Snezana have slept rough in the Serbian capital, Belgrade, since 2012. Life was tough, but COVID-19 made it tougher. For a long time would sleep on the outskirts of the city and take public transport into the centre each day for food and supplies.
But then, struggling to slow the spread of the novel coronavirus, authorities stopped buses, trams and trolleybuses from running and imposed a curfew from 5 p.m. The couple was stranded and, since they had no home, in danger of being penalised for being outside after dark.
They resolved to go on the road, moving between more than a dozen towns, mainly on foot despite Snezana having pain in one leg. One day in late March, however, they reached the town of Kraljevo in central Serbia at 5.30 p.m., so they set up on the steps of the police station in order to explain their plight. Two hours later, an officer took them before the local misdemeanour judge, who dismissed their explanations and fined each of them 50,000 dinars, some 425 euros – a small fortune far beyond their means. At that moment, the couple had 200 dinars to their name, roughly the price of two coffees.
"We were surprised at what the judge did despite us trying to explain our intentions," said Snezana, 59. "Why would we come in front of the police station if we wanted to break the law? Even the policeman regretted it when he saw how the judge punished us." But the judge was no exception.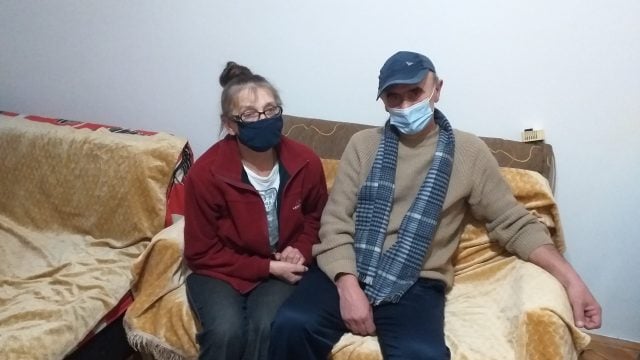 "I know more than 10 people who were fined because of this, but the numbers are much higher since many homeless people don't report it. They are already in despair," said Milica Jocic, an expert associate at the ADRA, which provides support for homeless people in Serbia.
"The courts punished them despite the fact all of them gave official statements that they are homeless and have no place to go."
Dusan said his ID card was stolen in 2013. He complained of being shunted from one municipal office to another in an effort to get a new one, only to be told each time that he is missing the necessary papers.
"I tried everything, but it's a vicious circle," he said.
Dusan and Snezana now have a roof over their heads, a small apartment on the edge of Belgrade provided by ADRA to help them get through the winter.
Asked about the 850 euros they owe for breaching the curfew, Dusan said such a sum was "impossible" to pay. "I can only go to jail," he said. "If I ever have that money I would rather use it to sort out my life than pay for a crime I am not responsible for."
You, too, can make a difference in the lives of many homeless people and provide a roof over their heads. They depend on donations of ordinary heroes, who cannot shut their eyes and do nothing. Become a hero by donating to ADRA in Serbia directly here: https://adra.org.rs/donirajte/. Thank you, rescue-hero!
Source: ADRA Srbija Balkan Insight Igor Mitrović, Saša Dragojlo.