The next hunger crisis is already here!
The world was on a good path! The goal "A world without hunger by 2030", issued by the United Nations (UN) as one of the 17 sustainable development goals, seemed possible. By 2015, fewer and fewer people were going hungry. But since then, the number has been rising again. The reasons are well known: Poverty, wars and climate change. ADRA is fighting this trend in its projects.
Hunger crises do not usually make it into the news. If they do, then only as a brief news item or side note. But the problem is global and affects one third of the world's population. According to the UN, 2.37 billion people are living without access to sufficient healthy food. The Corona pandemic has been a real accelerant, with the number up by 320 million people compared to 2019. People are malnourished when their diets are unbalanced and low in essential nutrients. This inhibits their performance and leads to an overall unhealthy life. Children, whose development is delayed by the deficiency, are particularly affected. Three quarters of all undernourished and malnourished people live in rural areas. There is agricultural land there, but there is a lack of work and wages. Where poverty is greatest, there is hunger.
Nearly 1 billion people live in extreme food insecurity
Extreme food insecurity, behind this technical term hides hunger in its most brutal form. People who, in desperation, eat anything halfway edible, like leaves or insects. Parents who don't eat anything all day long in order to give their children at least one meal. And babies who have never been full in their lives. The number of people in famine has increased by 148 million people compared to 2019 and now stands at 928 million people.
Three causes and one accelerant
Those who suffer from conflicts, climate and economic crises are always the poorest of a population. They cannot build up reserves; they live from hand to mouth. Without reserves, they are hit harder by a natural disaster, an armed conflict or a period of unemployment. This is the case in East Africa, for example. There, a plague of locusts of unprecedented proportions destroyed crops last year. In Kenya, Somalia and Ethiopia, farmers were unable to harvest anything and, unless they had supplies, had to rely on support. The plague of locusts continues to challenge the population in 2021, according to Dawit Mehari, Ethiopia adviser for ADRA Germany.
Pandemic and famine
The outbreak of the global Corona pandemic has exacerbated the hunger crisis. Lockdowns, disrupted supply chains and closed schools are plunging poor people into almost insurmountable tasks. ADRA Deutschland e.V. has set itself the goal of helping them. That is why the aid organization invested almost 2 million euros in nutrition projects last year. The annual budget amounts to over 12.6 million euros and helps more than 370,000 people. ADRA is tackling the roots of famine, poverty and the climate crisis. Through income and nutrition projects and climate adaptation activities, ADRA helps populations to become more resilient to disasters, crises and wars. At last, ADRA provides emergency relief with food deliveries. ADRA projects increase resilience in the medium to long term so that people can hope again
Every year on October 16, the World Food Day takes place. It draws attention to the fact that too many people in the world still suffer from hunger.
Pierre Schweitzer- ADRA Germany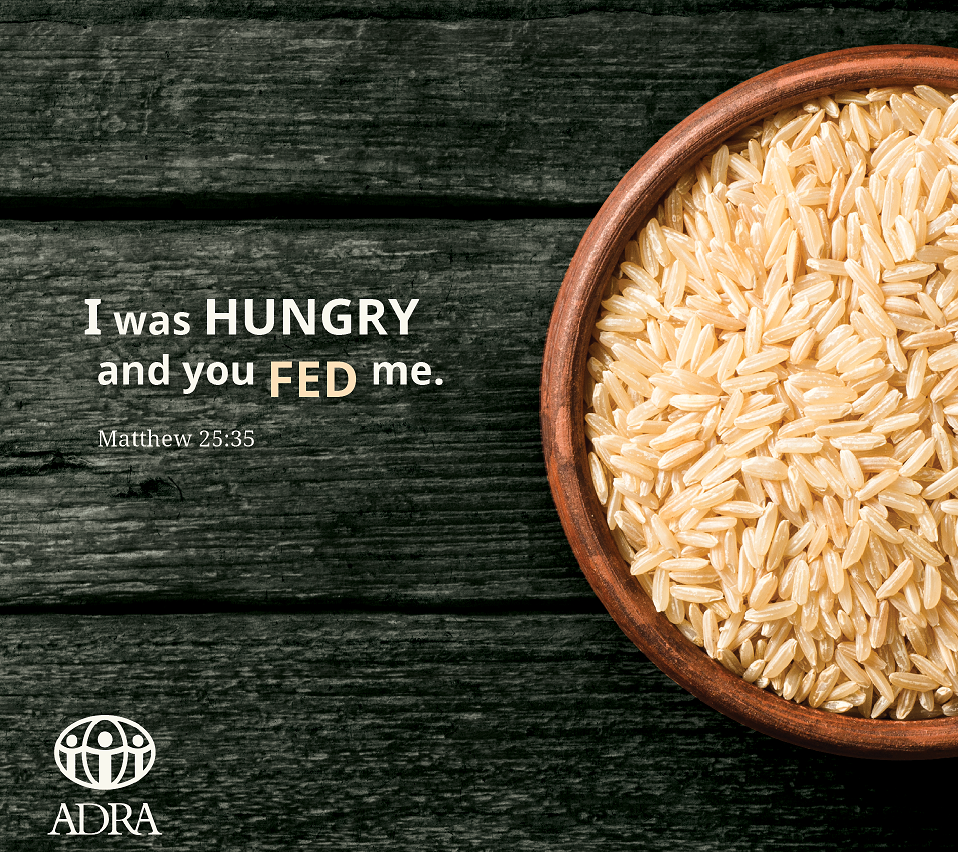 'I was hungry and you fed me' – Matthew 25:35
One of the ways in which ADRA demonstrates, justice, love and compassion is through its food security projects.  One such initiative is the Nutrition Home Gardens.  These are part of the Assisting Communities in Creating Environmental and Nutritional Development (ACCEND) Project in Sri Lanka.  The main objective of these home gardens is to improve the nutritional status of families by increasing access to quality and quantity of food that is safe and nutritious.  The focus of each garden is 'food first'. The gardens produce adequate quantities of vegetables, fruit, root, tuber, legumes, medicinal herbs and spices, and  if possible, farm animals, bees and fish to contribute to healthy eating.
The ACCEND Project which was funded by the European Union and jointly implemented by ADRA and Oxfam in collaboration with the country's government, helped to improve the lives of over 300,000 people in Matale, Nuwara Eliya and Monaragala districts.
Catherine Boldeau – ADRA UK